Office and Maintenance Shops buildings of "EDRASI H.PSALIDAS SA" Constructions company at the 47th km of Attika Road
The office building consists of three levels, Basement: 870m2, ground floor:1340m2 and 1st floor: 1340m2, it has a total area of 3550m2 and includes offices, restaurant, kitchen, multipurpose room, archives and laboratories. In the basement there are located a boiler room, the AHU's rooms, the pumps room and the switchgear room; the chiller is located outdoors.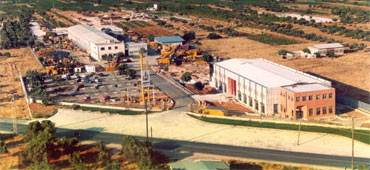 Main equipment capacity:
| | |
| --- | --- |
| | Chiller : 1 x 120RT |
| | Boiler : 1 x 420Mcal/h |
| | Electrical Supply : 250KVA |
| | Standby generator : 150KVA |
| | UPS : 40KVA |
The maintenance shop building consists of the main shop area 650m2 where are located all the machines for production and maintenance and includes all the E/M installations so as to cover the maintenance needs, as well as an overhead Crane. Adjacent to the maintenance shop building, there is an office building for the support of the shop which consists of a ground and first floor with offices as well as a basement with the mechanical rooms and the spare parts storage, of a 600m2 total surface.
Main equipment capacity:


| | |
| --- | --- |
| | Chiller : 1 x 10 RT |
| | Boiler : 1 x 380 Mcal/h |
| | Electrical Supply : 250KVA |
| | UPS : 3 KVA |
| | |
| --- | --- |
| Description of Project: | EDRASI H. PSALIDAS Office building in Koropi - Attica |
| Area: | 3.550 m2 |
| Subject: | Construction Design - Supervision |
| Participation Percentance: | 100 % |
| Client: | EDRASI H. PSALIDAS S.A. |
| Year: | 1997-1998 |
| Project Budget: | 700.000,00 € |
| Photo: |   |